Our Innkeepers
Our innkeepers, Dre and Charity Elmore, live on the island and are responsible for providing our guests with excellent service and for maintaining our facilities. Dre is certified by the U.S. Coast Guard and is a gourmet chef. They are both skilled craftspeople and wine connoisseurs.
Dre retired from a long career in publishing – as a journalist and in advertising as an art director – to live on a boat. However, he quickly found a second career working as a harbor master, bridge master, and lock master in addition to earning his 100-ton master captain license while working on a 60-foot, 149-passenger tour boat on the Erie Canal.
Charity recently retired from a long career in tech as a website producer, editor, and project manager.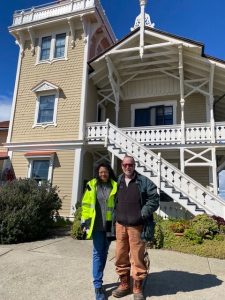 Our Volunteer "Wickies"
The proceeds from the operation of the Inn are not enough to do the whole job of preservation and restoration. As much of the maintenance of the facilities as possible is done by the volunteer group, the "Wickies." We need all kinds of volunteers at East Brother Light Station!
Learn more about Volunteering. Whatever your skills or energy level, there's a place for you. For more information, email us at volunteer@ebls.org.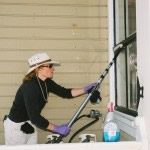 Our Board of Directors
Our Board of Directors are volunteers who work tirelessly on behalf of the lighthouse. The board includes:
Thomas Butt
Peter Martin
Kristen Gates
Charles Duncan
Shirley Butt
Charles Lewis IV
Board President
Vice Board President
Board Treasurer
Board Secretary
Board Member
Board Member
Help Us Build Our Future
Donations
Saving East Brother Light Station and making it accessible to the public to enjoy has been a labor of love.
We raise money to preserve, maintain, and keep our inn running.  
Did you know…
The keepers of old were nicknamed "Wickies" because of all of the time they spent trimming the wicks of the oil lamp so to keep the light burning strong and bright. While the old oil lamps are now history, the work of the lighthouse remains constant.
Our volunteers are now our most important "Wickies," and we rely on them to keep our Inn accessible.